30 Years of Knowledge You Can Count On
With 30 years in the business, the Bob's Door Service team are experts at installing and repairing garage doors in Nelson for residential and commercial clients. Our technicians have unmatched skill in this industry and are dedicated to providing our clients with professional, courteous services at a fair price. On Tuesday's we offer 10% off your service calls, and we also offer 24/7 emergency service should you require it.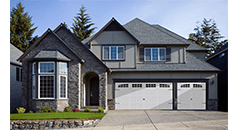 ---
Garage Door
Product Sales

---
We sell garage doors to residential and commercial clients throughout Nelson. We're proud to sell and service Steel-Craft Doors and Lift Master openers. Our pricing is competitive on all our products and services.
---
Garage Door
Installations

---
Our staff has been professionally trained on providing garage door installations on everything from single-family homes to high-end luxury homes, as well as at new construction sites and commercial sites. Plus, our installations come with a 1-year warranty.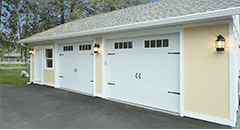 ---
Garage Door
Repairs & Service

---
We have available 24-hour repair service for emergencies, performed by our industry-trained professionals. We service all models of doors and openers, and offer a warranty on all repairs we provide. Additionally, a 10% discount is given for all garage service calls on Tuesdays!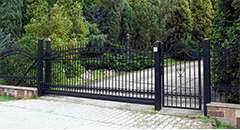 ---
Gate
Systems

---
We offer services for gate systems, both commercial and residential. Including, but not limited to: gated communities, homes, apartment communities, truck door, mall entrance doors, fire roll shutters and rolling steal industrial doors, dock seals and bumpers.
Our Free On-Site Consultation
One of our professionally trained installers will come to your home or business to discuss your needs. Step-by-step, we will guide you through the entire process including professional advice regarding style and budget.
Detailed, No-Obligation Quote
We craft a thorough quote on your behalf, insuring you're familiar with each and every cost in your project. Once you agree to the quote, we finalize the order with our suppliers. In certain cases, a deposit is required for certain specialty projects.
Scheduled Work is Completed
We schedule a date and time with you to begin work on your project. We are happy to accommodate your schedule and any specific needs to get the job done job properly. After work is completed, the final payment is required.
Why Work with Bob's Door Service
Why choose us over other garage door providers? Our team is dedicated to providing high-quality services to both residential and commercial customers. Our professional and courteous staff is available to service, install, or repair garage doors at your request.
Quality Products
We only offer the best products available in the industry, including Canadian-made Steel-Craft Door Products and Lift Master openers.
Competitive Pricing
Our pricing is very competitive for garage doors in Nelson. We work with you to offer the best products at the best possible price. Our quotes are prepared with your budget in mind.
Warranty Programs
We offer a 1-year warranty on installations and services. We feature Canadian-made Steel-Craft Doors that come with a 15-year warranty.
Service Flexibility
Our 24-hour emergency service helps you get unstuck and on your way. We service all types of models and doors for added convenience.
Customer Support
Contact us anytime for emergency repair and services. Our industry-trained service professionals are on call and ready to help.
30 Years of Experience
Our longevity in this business shows in our ability to assist any customer for all their garage door and gate system needs.
What Our Clients Are Saying
Want to know how our clients have to say about us? Scroll through the testimonials below to see firsthand our dedication to providing excellent service.
When I started looking for a new garage door I canvased the neighbourhood to those who had recently purchased doors from Bob's Door Service. What I found was 100% satisfaction from all the customers and a strong recommendation to place my order with Bob's Doors. Now that my new door has been installed I can join those who have experienced good pricing, on time service, and courteous workmen. I fully recommend this company.

We just wanted to pass along our appreciation at the great service we received from Bob and his team. He was here very quickly to assess our garage door problems. The next day the service was done to repair the improper install (a different supplier!) and within the next week our new doors were installed. We just love the new doors. 3 Great job and we would highly recommend them.

We love the looks and feel of our new garage door. I forgot the name of the technician installing the door, but he was fantastic. Friendly, quick, and very professional. Thank you for a great job.

Hi Bob, Robert and I absolutely thrilled with our new garage doors! Thank you so much for the amazing job you and your guys have done! We are the talk of the neighborhood lol!

Professional service with fair prices. Highly recommend Bob and his crew!

Great community supporters. Thank you again Bob's Doors for supporting SOWINS and our Lip Sync Challenge!

Bob provided excellent service, did it quickly, resolved the water under the door problem and did for a very reasonable price. Thanks

Speedy, excellent customer service and very knowledgable!!!!! I would strongly recommend this company!!!

Bob has offered top of the line service at a reasonable cost. I was very happy with the good care he took, as well as its friendly attitude. I would strongly recommend

Bob provided a fair quote and was great to work with. When it came time to install my shop doors, his crew had a great attitude and worked late. Great work and excellent service.

Our garage door broke on a Saturday and needed helpasap. We made a few calls to some other businesses and got no response. Then, we called Bob. He was fast, polite and got the job done.

Amazing and fast service. Called them on Friday at 12:30 that the door spring had broken, and had the door fixed by 2:15. Great service and a great guy!

I was totally impressed and satisfied with the service I received. He went out of his way to help me and his response was immediate. Would not deal with anyone else.